In this episode, Rusha interviews Jeff Garner, Jeff is a self-described Southern Gentleman, is one of the hottest fashion designers in the world. He's dressed some of the biggest celebrities of today including Rihanna, Taylor Swift, Gisele and Kings of Leon. He believes that it will be difficult for policy makers to regulate an industry that is predominantly commercial and based on profit. He argues that there is value in sustainable fashion, in creating clothes that are made from natural materials that will last. He says that this is something that could be achieved if consumers demanded it, and elites in the industry followed suit.
Key Highlights:
[00:01 – 03:35] – Opening segment
Rusha introduces Jeff Garner
Jeff discusses how man and nature are in a constant dance, and how this has led to many problems in society
Jeff believes that slower fashion is the way-to-go, and that consumers need to be educated about what true price should be for clothing
[03:36 – 20:14] – Changing The Mindset To Promote Sustainable Fashion
Jeff discusses how fast fashion and other trends are due to addiction and how to break that cycle
He discusses how gas prices relate to Ukraine and how consumers may be willing to pay more for higher quality clothing if it is recycled water or plant-based dyes
He discusses how humanity needs to get out of the mindset of wanting to buy as much as possible and instead focus on buying less expensive items that last longer
[20:15 – 31:35] – The Disconnect Between Ethical Fashion and Traditional Fashion
Jeff says that consumers want sustainable fashion, but are hesitant to change their entire wardrobe
Luxury items are often based on animal products, and it will take a celebrity to shift public perception
It will take a gradual process for people to change their habits and adopt more sustainable practices
Jeff says that there is a disconnect between ethical fashion and traditional fashion, with traditional fashion relying on unethical practices such as using animal leather and drying fabrics with heavy metals
Jeff is working to change this by showcasing sustainable clothing at events such as the Sustainable C Tour, which brings together designers from around the world to show their work
[31:35 – 50:26] – Environmental and Health Implications of Clothing Consumption
Jeff believes that if we can work together to get something out there, but everyone has a different platform
Jeff shares those designers are creating products that will fall apart sooner, leading to a "design addiction" and an increase in fast fashion
Consumers are discarding clothing quicker, leading to a decrease in quality and an increase in prices
He believes that the current focus on wellness will help to translate these concepts to the next level, as people become more aware of the environmental and health implications of clothing consumption
[50:27 – 01:01:20] – Closing Segment
Jeff shares that fashion designers need to be more conscious about the materials they are using, and consumers need to demand more sustainable fashion
Jeff encourages listeners if they are looking for guidance on how to move forward in their careers or their lives
How to connect with Jeff Garner at http://www.prophetik.com/
CRAVING MORE?
What are you waiting for? Head to Alchemy of Politics; join the conversation and start a change reaction! Follow us on Instagram and Tik Tok.
You can connect with Dr. Rusha on LinkedIn, Instagram, Facebook, and Twitter.
Thanks for tuning in! If you liked my show, LEAVE A 5-STAR REVIEW, like, and subscribe!
Share it with your friends, and family, and spark a conversation. Contribute, comment, and disagree.
Remember: Solutions, not shouting.
Tweetable Quotes:
Jeff Garner – "Your intimates, your bed, sheeting, things that you spend the most time in your towels, your detergents, you make sure those are in alignment with a sustainable ethos."
Jeff Garner – "I think if people approached it more scientifically, but the problem is people buy clothes based on first: design, second: price point, third: whether it's a good cause or what it's made of and that's what we're dealing with."
Rusha Modi – "There has to be a wholesale shift in what consumers are willing to pay for and cultural taste regarding fashion needs to change."
If You Enjoyed this Episode, Please Check Out.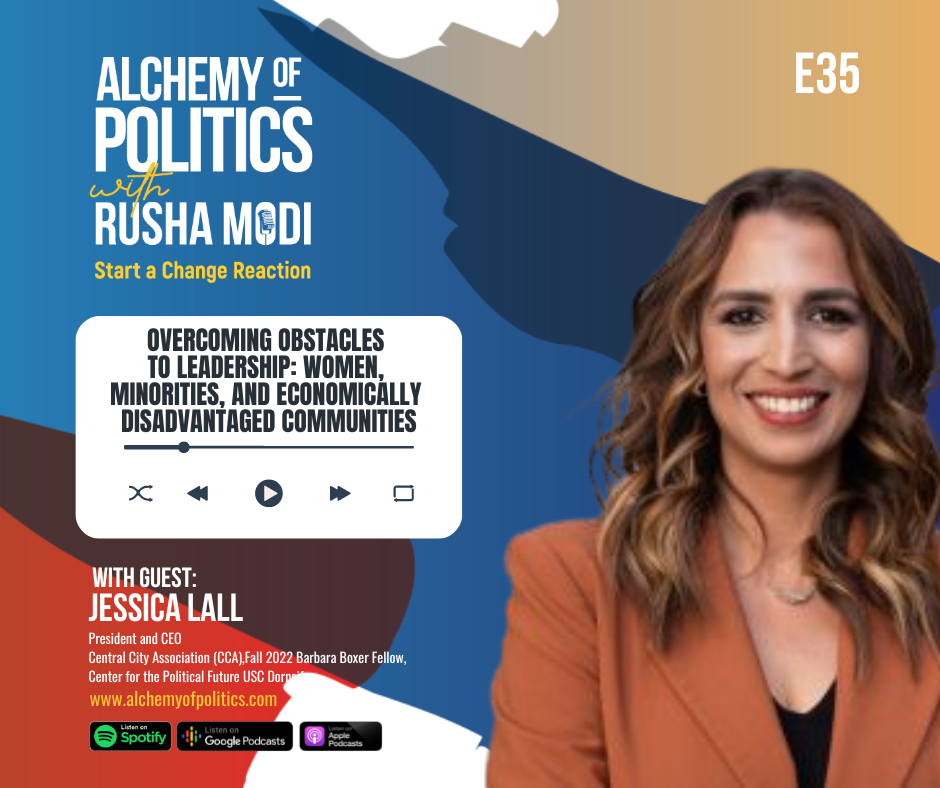 Episode #35 – Overcoming Obstacles To Leadership: Women, Minorities, and Economically Disadvantaged Communities with Jessica Lall
Jessica Lall on the LA Mayoral Race of the City of Angels, City of Leaders, She […]
Watch Now
https://alchemyofpolitics.com/wp-content/uploads/2022/07/21-Alchemy-of-Politics-Facebook.png
788
940
Super Developer
https://alchemyofpolitics.com/wp-content/uploads/2021/07/Group-95-1.png
Super Developer
2022-07-04 06:00:00
2022-07-07 15:05:34
Episode #21: Ethical Couture to Clothe and Change the World Looking Good and Living Well with Jeff Garner