Fully indoctrinated into the cult of science, neuroscientist Mona Sobhani, Ph.D., aggressively defended the dogma of scientific beliefs–until a series of life-altering events caused her to reconsider spirituality and psi concepts and launched her into a two-year investigation into the ineffable mysteries of our world. In this episode, she will be sharing her outlook on the emerging field of psychedelic science, consciousness therapies, the convergence of neuroscience and mental health, psychology, spirituality, and technology.
Mona is a cognitive neuroscientist, researcher, and author with 14+ years of experience and a passion for exploring how science and technology intersect with society and affect human health and well-being. She has explored this theme through cognitive neuroscience, law + neuroscience, digital health, as well as working with startups and venture capital. Recently, She has become interested in consciousness and exploring how science (specifically neuroscience and psychology) can be bridged with spirituality to help us understand the world in which we live.
Let's jump into the emerging use of psychedelics!
Key Highlights:
[00:45 -07:35] – Opening Segment
An overview of the threats to consciousness
How something that was very controversial in the 60s-70s get so mainstream
Dr. Mona's insights about psychedelics
[07:36 – 20:12] The Psychological and Healing Aspect of Psychedelics
How to use psychedelics as opposed to just knowing what these compounds do
How Dr. Mona conducts clinical trials on a topic that is subjective as anxiety and depression
[20:13- 31:17] – The Fascinating Commonality with How Users Have Described Their Experiences
The limitations of the reductionist approach
Dr. Mona's outlook on the model consciousness and the altered state of consciousness
The language commonality in terms of how people experience psychedelics
[31:18 – 40:17] – The Distinction Between Having and not Having Boundaries
Why people believe psychedelics effects are a manifestation of your own biases
You feel there are no boundaries with psychedelics and other nonordinary states of consciousness
[40:18 – 48:35] – The Biggest Thing in Our Reality is Our Consciousness
Dr. Mona shares her experience with psychedelics
What is the role of psychedelics for us as species and as a country
The reason why the relationship between us and our environments is important
[48:36 – 50:02] – Closing Segment
Want to connect with Mona Sobhani? Follow her on LinkedIn, and Twitter. If you want to learn more about her work, head to Mona Sobhani Ph.D., and make sure to check her substack The Brave New World of Psychedelics Science.

CRAVING MORE?

What are you waiting for? Head to Alchemy of Politics; join the conversation and start a change reaction! Follow us on Instagram and Tik Tok.

You can connect with Rusha Modi, MD on LinkedIn, Instagram, Facebook, and Twitter.

Thanks for tuning in! If you liked my show, LEAVE A 5-STAR REVIEW, like, and subscribe!

Share it with your friends, and family, and spark a conversation. Contribute, comment, and disagree.

Remember: Solutions, not shouting.

Resources Mentioned:

How to Change Your Mind: The New Science of Psychedelics – Michael Pollan
Proof of Spiritual Phenomena: A Neuroscientist's Discovery of the Ineffable Mysteries of the Universe – Mona Sobhani

Tweetable Quotes:
Mona Sobhani- "The thing I like about psychedelics in the healing context is that it forces you to give up control, it forces you to sit with yourself and set an intention."
Mona Sobhani- "[Psychedelics] is an opportunity to explore and kind of bridge that there's a spectrum of consciousness."
Mona Sobhani – "Clinical psychology needs to be bridged with neuroscience in a more thorough way. Neuroscience comes up from a very laboratory experimental approach that is very devoid of a human clinical aspect. And I think to make proper models of the brain and of consciousness, we really need to bridge these fields."
Mona Sobhani -"What I like about nonordinary states of consciousness is that you're forced to let go of control for a moment."
If You Enjoyed this Episode, Please Check Out.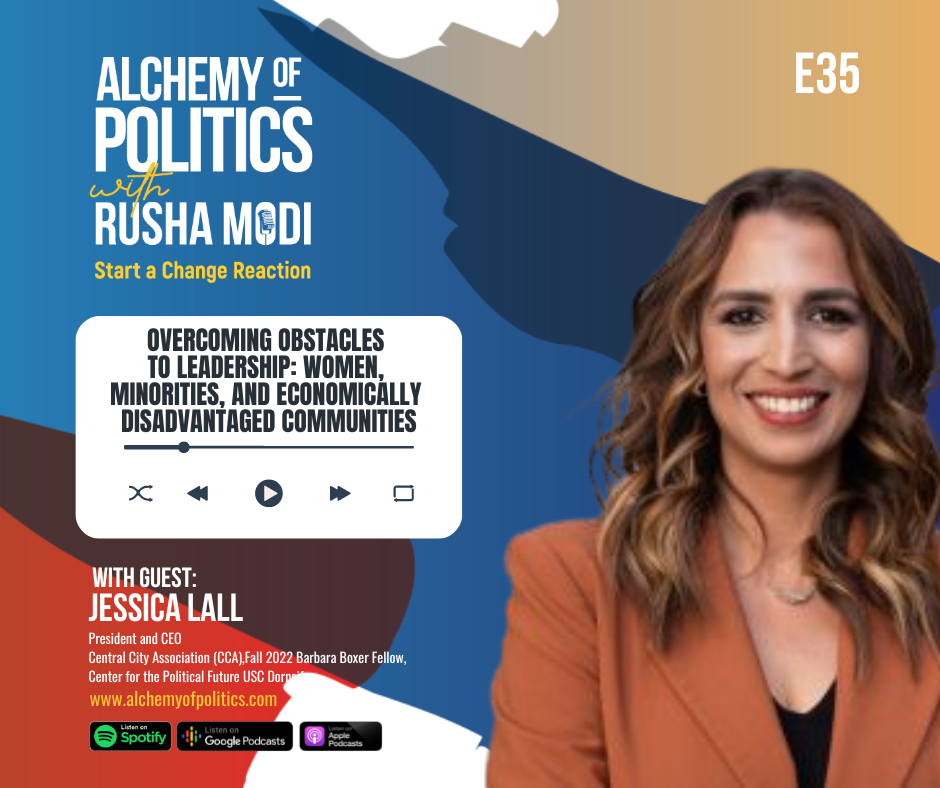 Episode #35 – Overcoming Obstacles To Leadership: Women, Minorities, and Economically Disadvantaged Communities with Jessica Lall
Jessica Lall on the LA Mayoral Race of the City of Angels, City of Leaders, She […]
Watch Now
https://alchemyofpolitics.com/wp-content/uploads/2022/04/Alchemy-of-Politics-Facebook-3.png
788
940
Super Developer
https://alchemyofpolitics.com/wp-content/uploads/2021/07/Group-95-1.png
Super Developer
2022-04-25 07:00:00
2022-04-22 19:54:47
Episode # 6 : The Agony and the Ecstasy: The Emerging Use of Psychedelics with Mona Sobhani PhD