Dr. Stanford is nothing less than an all-star. She is the most credentialed academic physician I've yet to meet and that's saying something given the people I have had the privilege to work with. She's a world-renown expert on obesity and operates a Harvard-based clinic and teaches in Boston, Mass. She discusses the genetics and stigma surrounding weight, the macro forces pushing us to eat more, and the stakeholders in our obesogenic environment. She offers a compelling throughline on the intersection of race, COVID-19, and weight. She explains why she feels fat is not people's fault and the biology of obesity. She answers a puzzling question I have had in my clinical experience for years: why are physicians so reluctantly prescribing obesity and weight management medications? Metabolic-related conditions are already a leading river of disease in America and her insights are valuable for anyone looking to heal others or become healthier themselves. Listen and enjoy!
Fatima Cody Stanford, MD, MPH, MPA, MBA, FAAP, FACP, FAHA, FAMWA, FTOS is an obesity medicine physician-scientist, educator, and policymaker at Massachusetts General Hospital and Harvard Medical School. She is a national and international sought-after expert in obesity medicine who bridges the intersection of medicine, public health, policy, and disparities.
Key Highlights:
[00:01 – 12:30] – Opening Segment
Dr. Fatima's outlook on the parallel discussion about COVID and obesity
Why obesity is a complex disease and that targeting food alone is not effective
A moonshot for obesity is necessary to address the problem comprehensively
[12:31 – 21:03] Obesity, COVID-19, And Racism
How government interventions would be beneficial for both obesity and minority communities
How a woman's weight and minority status were factors that contributed to difficulty finding work
Why food policy and obesity policy are not the same
[21:04- 31:22] – The Reluctance To Use Medications
There is a lack of training for providers in obesity medicine
The reason why there is a lot of fear and reluctance to use medications to treat obesity
Care delivery for obesity will move beyond the clinic walls and into digital spaces such as applications
[31:23- 38:46] – Obesity Is Not About Aesthetics
The importance of understanding the brain in order to treat obesity
Obesity is a complex condition that is not simply a result of eating too much or not exercising enough
There are different factors that contribute to obesity
[38:47 – 39:25] – Closing Segment
Want to connect with Fatima Cody Stanford? Follow her on LinkedIn, Twitter, and Instagram. If you want to learn more about her work, head to Harvard University, and Harvard Catalyst.
CRAVING MORE?
What are you waiting for? Head to Alchemy of Politics; join the conversation and start a change reaction! Follow us on Instagram and Tik Tok.
You can connect with Rusha Modi, MD on LinkedIn, Instagram, Facebook, and Twitter.
Thanks for tuning in! If you liked my show, LEAVE A 5-STAR REVIEW, like, and subscribe!
Share it with your friends, and family, and spark a conversation. Contribute, comment, and disagree.
Remember: Solutions, not shouting.
Resources Mentioned:
Why Food Policy And Obesity Policy Are Not Synonyms 
Tweetable Quotes:
Fatima Cody Stanford – "When patients access care, they don't know that they're going into a trusted space, a space where they will not be blamed for their disease."
Fatima Cody Stanford – "Obesity is not about aesthetics. It's about a disease that's controlled and regulated by the brain."
Fatima Cody Stanford – "My goal is to educate the world, and make it a better place for my patients."
If You Enjoyed this Episode, Please Check Out.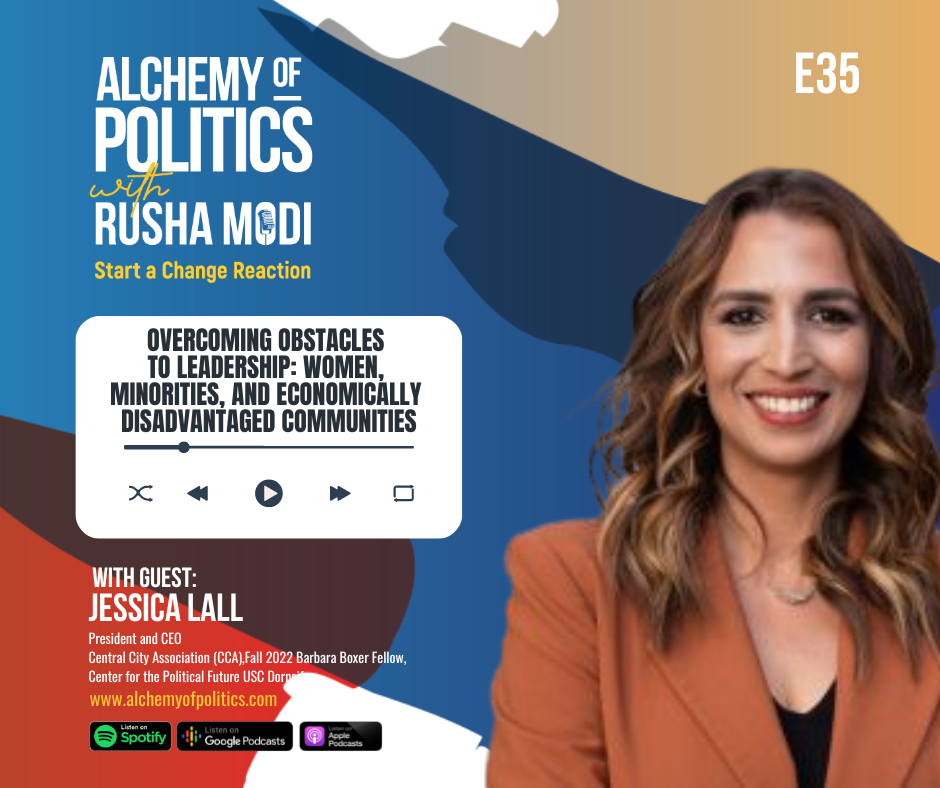 Episode #35 – Overcoming Obstacles To Leadership: Women, Minorities, and Economically Disadvantaged Communities with Jessica Lall
Jessica Lall on the LA Mayoral Race of the City of Angels, City of Leaders, She […]
Watch Now
https://alchemyofpolitics.com/wp-content/uploads/2022/05/Alchemy-of-Politics-Facebook-1-1.png
788
940
Super Developer
https://alchemyofpolitics.com/wp-content/uploads/2021/07/Group-95-1.png
Super Developer
2022-05-16 07:00:00
2022-05-14 00:16:25
Episode # 12 : Hunger for Reform: A Path Forward for the Obesity Epidemic with Fatima Cody Stanford MD MPH MBA FAAP FACP FAHA FAMWA FTOS