I truly thought that at the beginning of the pandemic, COVID-19 would help bring us as a nation together. I was quickly disabused of that notion. More surprisingly were the attacks on the credibility of physicians and scientists themselves. Dr. Purvi Parikh knows these issues well and has been a frequent television commentator and bringer of sanity amidst the craziness of the last two years. She's Board Certified in Internal Medicine and Allergy and Immunology at NYU Langone. She talks about the scientific method itself and the future of the medical establishment in a "post-pandemic world." the audio cuts out a bit in the beginning. hopefully, you can help clean it up a bit.
Purvi Parikh, MD, is an allergist and immunologist with Allergy & Asthma Network, the leading nonprofit patient education organization for people with allergies, asthma, and related conditions. Dr. Parikh practices in New York City at Allergy and Asthma Associates of Murray Hill and New York University School of Medicine. She sits on the Board of Directors for the advocacy council of the American College of Allergy, Asthma & Immunology. She is also a Clinical Assistant Professor, Department of Medicine at NYU Grossman School of Medicine Board Certified by both the American Board of Allergy & Immunology – General, 2013 and American Board of Internal Medicine – Internal Medicine, 2011.
Key Highlights:
[00:01 – 09:28] Opening Segment
An overview of the current state of the pandemic
What was once considered the end game for the pandemic may not be the case in future years
People are advocating for different ways to be more careful during flu season
[09:29 – 18:18] The Vaccine Recommendations
The reason why people need to be realistic about the normalization of 2019
The medical establishment has not done an effective job in communicating new recommendations
Vaccine hesitancy is due to myths propagated by the media
[18:19 – 27:04] The Lack of Coherent COVID-19 Strategies
Antibody tests are not the only measure of immunity
Dr. Purvi's outlook on the lack of a coherent COVID-19 strategy and confusion about how decisions about the virus have been made
There's a miscommunication between the administration and the medical community
[27:05 – 38:37] How The Government Has Responded To Different Crises
Why there is a lot of frustration with the government and politicians for their involvement in health care
People are concerned about other health crises that have been going on while COVID has been dominating the news
How the COVID pandemic has revealed different aspects of America
We need to be more understanding of both sides of the antiviral and vaccine controversies
[38:38 – 39:35] Closing Statement
Want to connect with Purvi Parikh? Follow her on LinkedIn, Instragram, and Twitter. If you want to learn more about her work and publications, head to https://nyulangone.org/doctors/1629212592/purvi-s-parikh
Key Quotes:
Purvi Parikh – "We're going to have to learn to live with this virus. I don't think it's going to go away, but hopefully it will become more manageable so that we don't have to go into panic as much."
Purvi Parikh – "Science is meant to evolve, it's meant to change, but it has to be based on data and evidence."
CRAVING FOR MORE?
What are you waiting for? Head to Alchemy of Politics; join the conversation and start a change reaction! Follow us on Instagram and Tik Tok.
You can connect with Dr. Rusha on LinkedIn, Instagram, Facebook, and Twitter.
Thanks for tuning in! If you liked my show, LEAVE A 5-STAR REVIEW, like, and subscribe!
Share it with your friends, family, and spark a conversation. Contribute, comment, and disagree.
Remember: Solutions, not shouting.Keu
If You Enjoyed this Episode, Please Check Out.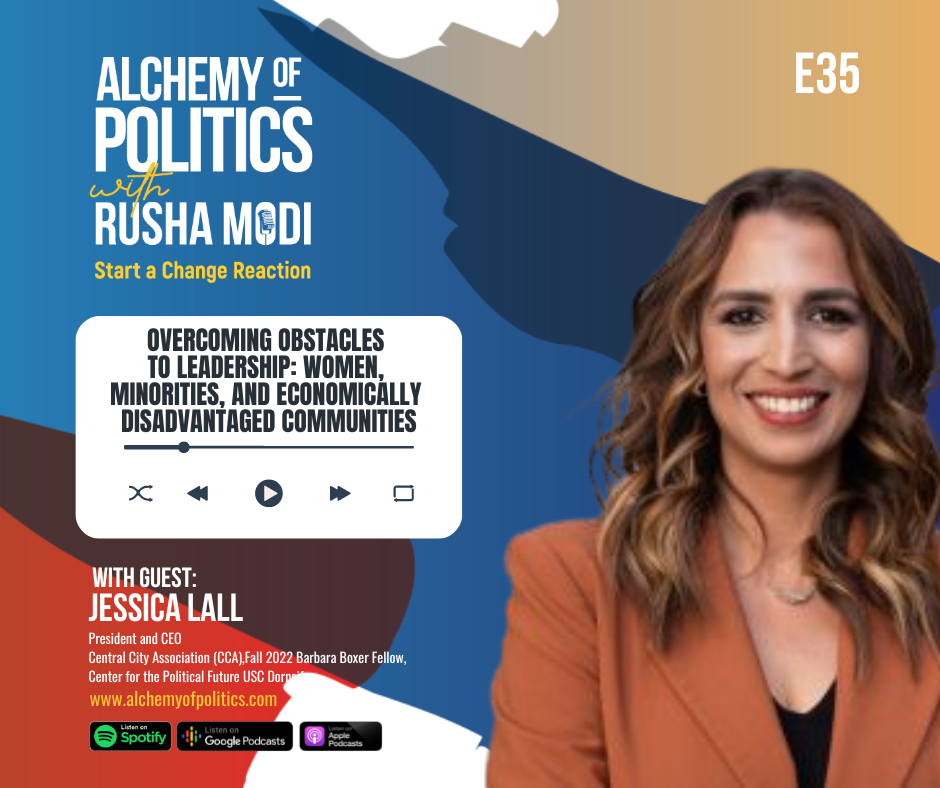 Episode #35 – Overcoming Obstacles To Leadership: Women, Minorities, and Economically Disadvantaged Communities with Jessica Lall
Jessica Lall on the LA Mayoral Race of the City of Angels, City of Leaders, She […]
Watch Now
https://alchemyofpolitics.com/wp-content/uploads/2022/05/Alchemy-of-Politics-Facebook-3.png
788
940
Super Developer
https://alchemyofpolitics.com/wp-content/uploads/2021/07/Group-95-1.png
Super Developer
2022-05-20 07:00:00
2022-05-18 14:59:54
Episode # 13 : A Scientist's Search For Truth: COVID-19 Distilled with Purvi Parikh MD FACP FACAAI