In this episode, Rusha interviews Dr. Gregory L. Taylor, II, MBA, MD. Gregory Taylor is the Founding Medical Director of Keck Signature Care of USC Concierge Medicine. He discusses that with the pandemic going on for around two years now, and the study of medicine has been making progress in terms of understanding the virus and developing vaccines. He shares that although the pandemic is causing a lot of deaths around the world, it's also allowing us to look deep inside ourselves and reflect on our relationship with others. He reflects on how things are going in the pandemic and how it caused many people to distrust one another. He also points out that there are fundamental differences between how people in developed countries are handling COVID compared to those in developing countries, where there is still an understanding of traditional medicines and ways to deal with problems.
Key Highlights:
[00:45 – 04:55] – Opening segment
Rusha introduces Dr. Gregory Taylor
Gregory shares his story
Our mutual beneficial relationship with microorganisms with dealing with the pandemic
The concern you have for your neighbor who has the disease
Making progress with vaccines on a scientific level
[04:56 – 14:40] – How capitalism plays a big part in navigating the pandemic
Gregory stated the fundamental issues that we are not tackling that has brought us as a nation
What capitalism means to an average person and how much you can extract from a broken person
Staying positive to be able to negotiate and navigate the pandemic
[14:41 – 19:47] – A way to make sustainable long-term change
Gregory talks about seeing people's true personalities in times of crisis
The state of the global environment in times of crisis
Behavioral change is key to the health in general
Achieving sustainable long-term change
[19:48 – 26:37] – Changing the healthcare system to make it better for the average person
The youth being the hope for our future
Streamlining the healthcare system
The disconnect between the service, the payer, and the person who benefited from the service
Changing the healthcare system and how to make it better for the average person
[26:38 – 34:22] – Getting over financial restraints by being a physician entrepreneur
Advocating for physician entrepreneurs
The cause of burn out as a physician
Getting over financial restraints
[34:23 – 43:18] – The fundamental difference between a small unit versus a well-seasoned legacy
Gregory discusses the lack of control of the environment by physicians
The business model that drives healthcare
How big companies envision a different world
Healthcare is ever evolving
[43:19- 47:43] – Social Economics of healthcare
Gregory and Rusha discusses if change can occur
How the government is the primary player in terms of healthcare
The disconnect between people who have control of their lives
The results in an outcome based healthcare system
[47:44 – 52:15] – Closing Segment
Communicating in a visceral sense
Reforming the healthcare system
CRAVING MORE?
What are you waiting for? Head to Alchemy of Politics; join the conversation and start a change reaction! Follow us on Instagram and Tik Tok.
You can connect with Dr. Rusha on LinkedIn, Instagram, Facebook, and Twitter.
Thanks for tuning in! If you liked my show, LEAVE A 5-STAR REVIEW, like, and subscribe!
Share it with your friends, and family, and spark a conversation. Contribute, comment, and disagree.
Remember: Solutions, not shouting.
Tweetable Quotes:
Dr. Gregory L. Taylor, II, MBA, MD – "We need physicians to go into leadership positions either in the corporate world or in politics and being entrepreneurs. That's what I'm really advocating for physician entrepreneurs."
Dr. Gregory L. Taylor, II, MBA, MD – "Behavioral change is key to the health in general. A lot of this lies in the hands of the future leaders, these young folks and giving them opportunities to understand that without their participation, things won't get any better. "
Rusha Modi – "Unless you communicate in a core visceral sense, what the value proposition is for whatever you're creating in a way that's intuitive. It's not going to fly whatever you're trying to create, people have to get it."
If You Enjoyed this Episode, Please Check Out.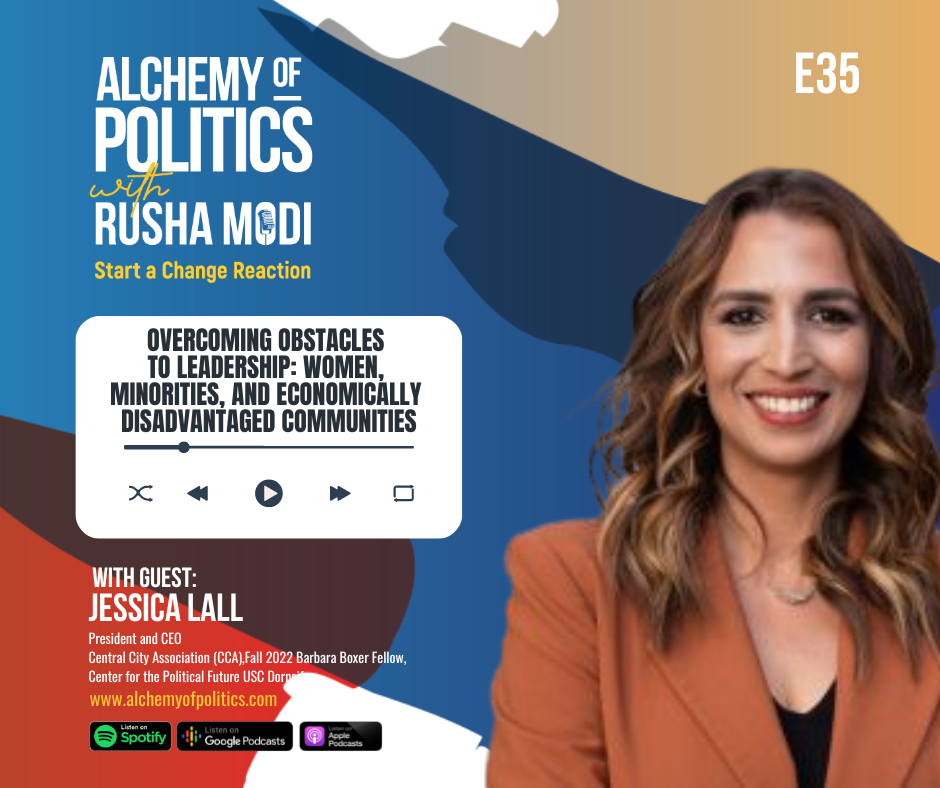 Episode #35 – Overcoming Obstacles To Leadership: Women, Minorities, and Economically Disadvantaged Communities with Jessica Lall
Jessica Lall on the LA Mayoral Race of the City of Angels, City of Leaders, She […]
Watch Now
https://alchemyofpolitics.com/wp-content/uploads/2022/06/17-Alchemy-of-Politics-Facebook.png
788
940
Super Developer
https://alchemyofpolitics.com/wp-content/uploads/2021/07/Group-95-1.png
Super Developer
2022-06-03 07:00:00
2022-06-02 15:22:49
Episode #17: Forces that Divide, Forces that Bind: Entrepreneurship, History, and Communal Dialogue in Healthcare with Gregory Taylor MD