In this episode, Rusha interviews Dr. Shenelle N. Wilson, M.D. She is a fellowship-trained urologist/urogynecologist and pelvic surgeon who specializes in urinary and sexual health issues in women and men. She also specializes in urologic care for patients with neurogenic bladder. Dr. Wilson sat down to discuss how physician diversity can improve patient care and reduce health disparities. They discuss how having a diverse physician workforce can lead to better patient care across all demographics, the importance of non-scientific knowledge in medical education, and the challenges that black and Latin physicians face in the healthcare field. This conversation is important because it touches on the topic of social determinants of health and how they play into the workforce and quality of care.
Key Highlights:
[00:01 – 03:24] – Opening segment
Rusha introduces Dr. Shenelle N. Wilson
Shenelle talks about the importance of diversity
The disparities between black and brown patients'
[03:25 – 12:49] – Minimizing disparities for a diverse physician workforce
Shenelle stresses about the importance of having a diverse physician workforce
The disparity for treatment for an overactive bladder for black and latin person
Health issues affect gainful employment
Find out what's your patient's social situation
[12:50 – 18:46] – The importance to have more of the minority in the workforce
Shenelle shares a story about being the only black doctor
Increasing minority physicians breeds trust towards the communities
Having conversations with your patients increases trust
Shenelle discusses how we navigate the healthcare system as a minority
[18:47 – 27:13] – The need to speak up and overcome invalidation
Shenelle tells us the importance of speaking our mind
Dealing with invalidation when you've perceived to reach the top
She shares how it was such a toxic system while she was training in her academic medicine
Shenelle shares her long-term goal and start a urology residency school
[27:14 – 31:02] – Closing Segment
Shenelle and Rusha discusses the unbridled enthusiasm of healthcare workers
Shenelle explains the need of additional passion so that we can have a well-rounded life
Find Dr. Shenelle at her website and urologyunbound.org
CRAVING MORE?
What are you waiting for? Head to Alchemy of Politics; join the conversation and start a change reaction! Follow us on Instagram and Tik Tok.
You can connect with Dr. Rusha on LinkedIn, Instagram, Facebook, and Twitter.
Thanks for tuning in! If you liked my show, LEAVE A 5-STAR REVIEW, like, and subscribe!
Share it with your friends, and family, and spark a conversation. Contribute, comment, and disagree.
Remember: Solutions, not shouting.
Tweetable Quotes:
Dr. Shenelle N. Wilson, M.D – "It's so important to have more minority physicians, because having us there, it will breed the extra trust when they know that, this is someone who comes from my community, who has that same generational knowledge, who also was affected by the way healthcare has been towards our communities,
Dr. Shenelle N. Wilson, M.D – "I think that all of us need to find that additional passion so that we can have a more well-rounded life because medicine and healthcare just becomes everything and we just go to sleep and we'd do it again."
Rusha Modi – "The diversity in the workforce and clinicians that come from a variety of parts of society is representative of the larger issues that we're having in the boardroom and small businesses."
If You Enjoyed this Episode, Please Check Out.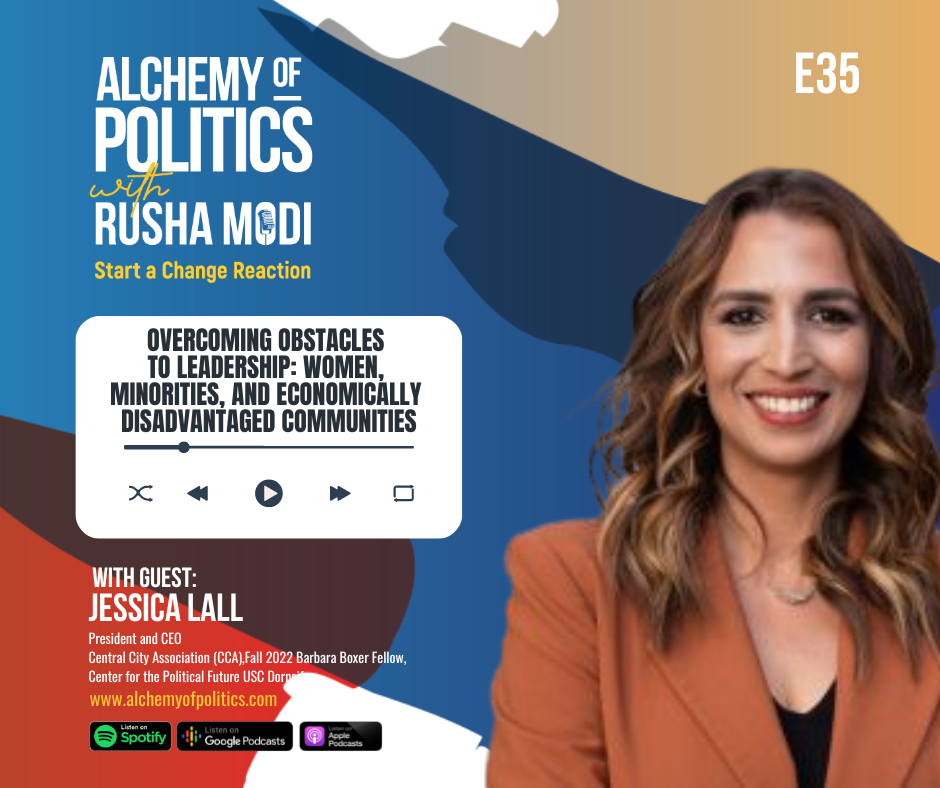 Episode #35 – Overcoming Obstacles To Leadership: Women, Minorities, and Economically Disadvantaged Communities with Jessica Lall
Jessica Lall on the LA Mayoral Race of the City of Angels, City of Leaders, She […]
Watch Now
https://alchemyofpolitics.com/wp-content/uploads/2022/06/16-Alchemy-of-Politics-Facebook.png
788
940
Super Developer
https://alchemyofpolitics.com/wp-content/uploads/2021/07/Group-95-1.png
Super Developer
2022-06-06 07:00:00
2022-06-30 10:42:25
Episode #18: Sending The Elevator Down: Expanding The Healthcare Workforce To Include All Communities With Shenelle N. Wilson, MD