Welcome back to another episode of the Alchemy of Politics where we discuss solutions and avoid shouting. Today we get deeper into technology's current affairs and the many ways experts try to push its improvements to our daily lives in this modern age. Let's hear Professor Scott's wisdom in regards to this matter.
Who is he?
J. Scott Christianson is the Associated Teaching Professor in the Management Department of the Robert J. Trulaske Sr, College of Business at the University of Missouri-Columbia. Few people are better able to comment on the role of technology in human capital development than him. In this wide-ranging interview, we cover his time in Ukraine and the early implications of Russia's war on that country, what the role of technology is in society and how currency is changing with the rise of bitcoin and other block-chain technologies. Is the Zoom-ification of education good for kids and teachers ? Is Facebook really terrible for democracy? Can we ever close the technological Pandora's box? Listen to the answers to these captivating questions and more.
[00:01 – 12:56] Opening Segment
"Technology is a forced multiplier"
Unique elements to technology that make it different
We need to reclaim our right to decide
Human agency and technological weather
Amplification on Facebook is different
Isn't a threat we put so much emotion on technology?
[12:57 – 25:23] Resolved: I don't want to be controlled
Educate students to have deep thinking for other things
Let's quote Scott years back
Technology and workforce
The dawn of Artificial Intelligence
The hope for a human-like approach to technology
Conflicting interests existing
Others say: technology needs to be taxed
[25:24 – 41:16] Technology's use in Education
Training students to be Globally Competitive amidst technology's reign
Can we "outsmart" Artificial intelligence?
A collaborative work: feedback matters
Behavior modification and technology
"You actually use this?"
[41:17 – 50:19] Closing Segment
Final words
Connect to Scott:
https://www.linkedin.com/in/jscottchristianson/
https://jscottmo.medium.com/
https://frtech.substack.com/
https://www.youtube.com/channel/UCPTIoqirZKP7bnI9h6_oymA
https://twitter.com/JScottMO
please see website for social media links:
https://www.christiansonjs.com/
Shoot him an email: christiansonjs@missouri.edu
CRAVING FOR MORE?
What are you waiting for? Head to Alchemy of Politics; join the conversation and start a change reaction! Follow us on Instagram and Tik Tok.
You can connect with Dr. Rusha on LinkedIn, Instagram, Facebook, and Twitter.
Thanks for tuning in! If you liked my show, LEAVE A 5-STAR REVIEW, like, and subscribe!
Share it with your friends, family, and spark a conversation. Contribute, comment, and disagree.
Remember: Solutions, not shouting.
Tweetable Quotes
"I don't think technology is kind of like a straight arrow with a geologic time or something like that. I think that we get to make the decisions. We get to be involved. [with using technology]" – J. Scott Christianson
"We need to build this culture of collaboration in the classroom. We need to allow for alternative paths." – J. Scott Christianson
"Maybe having a little time to think, having a little time in between things is not a bad thing." – J. Scott Christianson
Resource Mentioned:
Nudge – Richard H. Thaler
Deep Medicine – Eric Topol MD
If You Enjoyed this Episode, Please Check Out.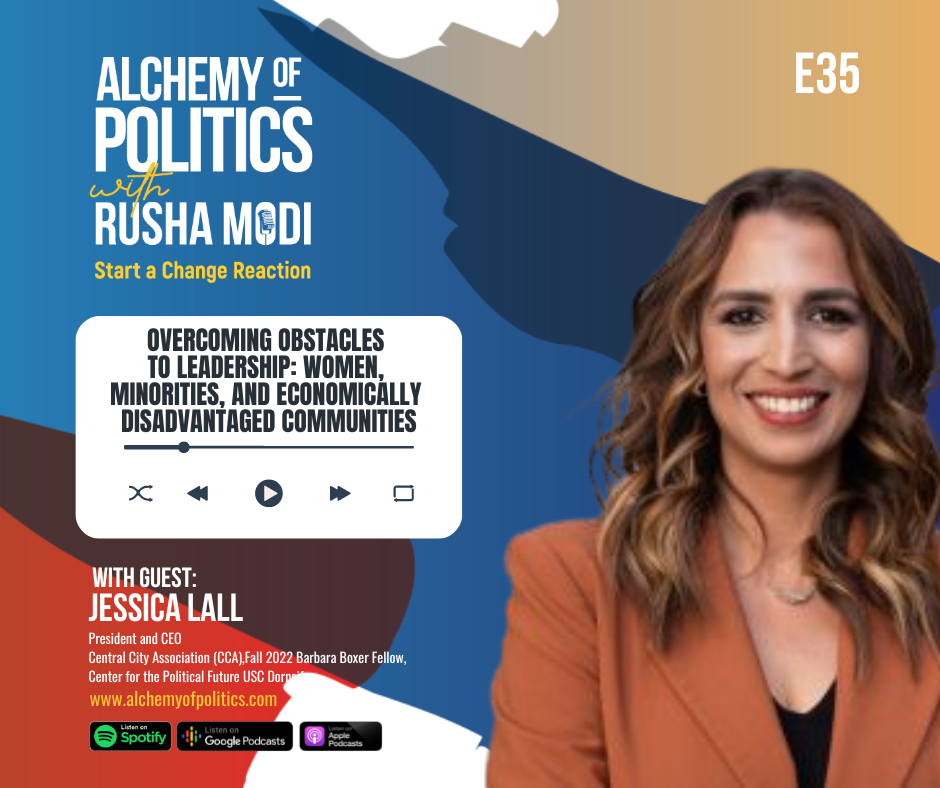 Episode #35 – Overcoming Obstacles To Leadership: Women, Minorities, and Economically Disadvantaged Communities with Jessica Lall
Jessica Lall on the LA Mayoral Race of the City of Angels, City of Leaders, She […]
Watch Now
https://alchemyofpolitics.com/wp-content/uploads/2022/04/Alchemy-of-Politics-Facebook-E02.png
788
940
Super Developer
https://alchemyofpolitics.com/wp-content/uploads/2021/07/Group-95-1.png
Super Developer
2022-04-08 18:24:20
2022-04-08 18:24:21
Episode #2: Finance, Digital Currency, and the Role of Technology in Society with J. Scott Christianson