Why would a physician start a political and social commentary podcast? How is this show different from the other rant casts out there? Learn about the unique raison d'etre of this show and how you can participate to reform, reshape and rejuvenate the conversations that power our world to turn chaos into clarity.
And it all began here, today. Welcome to the inaugural episode of the Alchemy of Politics podcast!
[00:01 – 05:03] Opening Segment
Why did I start this podcast

A doctor talking about political issues? why?

The premise of this show

A response to a 'viral' seeker culture
Here, we solve problems that matter
[05:04 – 11:48] A cure to misinformation
A glimpse to the interesting conversations we'll be having
The larger motifs

"Yeah, Rusha's points really made sense!"
You can learn here. You must learn something here.

The policy solutions that can repair the world

We seek to cross that existing divide
We need to be honest about the problems we have

Be a part of the community
[11:49 – 13:04] Closing Segment
Tune in to the coming episodes for Season 1!
Final words
CRAVING FOR MORE?
What are you waiting for? Head to Alchemy of Politics; join the conversation and start a change reaction! Follow us on Instagram and Tik Tok.
You can connect with Dr. Rusha on LinkedIn, Instagram, Facebook, and Twitter.
Thanks for tuning in! If you liked my show, LEAVE A 5-STAR REVIEW, like, and subscribe!
Share it with your friends, family, and spark a conversation. Contribute, comment, and disagree.

Remember: Solutions, not shouting.
Tweetable Quotes
"I needed an outlet to express my desire to comment and learn about the world beyond just pure clinical medicine." – Dr. Rusha Modi
"Solutions, not shouting." – Dr. Rusha Modi
"I hope you come away with the sense that, 'I truly learned something' and 'I was trying to learn something.' This is a seeker's podcast in that regard. It's not a progressive version of the Ben Shapiro show." – Dr. Rusha Modi
"I'd rather you approach your own conclusions with greater intellectual and emotional clarity. That is the idea." – Dr. Rusha Modi
If You Enjoyed this Episode, Please Check Out.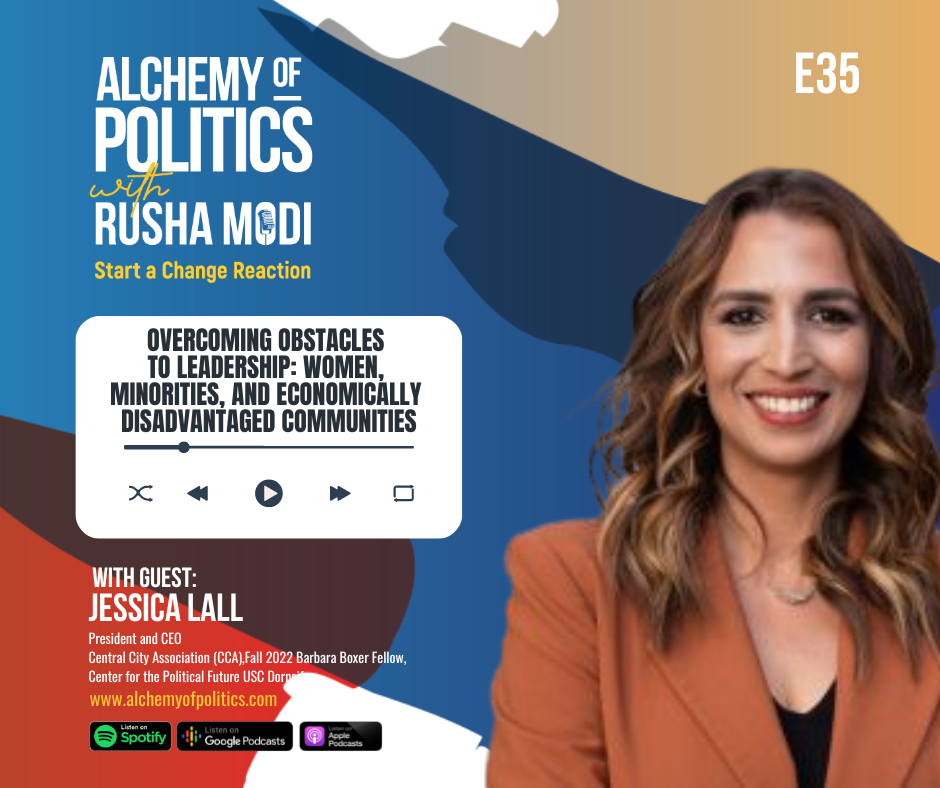 Episode #35 – Overcoming Obstacles To Leadership: Women, Minorities, and Economically Disadvantaged Communities with Jessica Lall
Jessica Lall on the LA Mayoral Race of the City of Angels, City of Leaders, She […]
Watch Now
https://alchemyofpolitics.com/wp-content/uploads/2022/04/Alchemy-of-Politics-Facebook-E03.png
788
940
Super Developer
https://alchemyofpolitics.com/wp-content/uploads/2021/07/Group-95-1.png
Super Developer
2022-04-08 16:42:34
2022-04-08 16:42:35
Episode #1: Alchemy Of Politics