In this episode, Rusha interviews Praveen Suthrum, Praveen is the healthcare whisperer. A well-known thought leader on the GI business industry, he has become the go to figure to predict the headwinds of the future of healthcare. His insights and interviews on digital health, business consolidation in the industry, and the implications of emerging medical technology are must reads. In this episode, we talk about all these topics and more and you'll learn Praveen's breakdown of the fundamental forces reshaping modern healthcare.
NextServices is a company provides a platform that practices need to thrive while facing tougher reimbursements, higher operating costs and increased regulation. Under his leadership, the company developed a cloud-based GI EHR and endoscopy report writer called enki. He has an engineering degree from Manipal Institute of Technology and an MBA from University of Michigan's Ross School of Business. He also completed the Exponential Medicine program at Singularity University. Additionally, he studied sculpture at the New York Studio School and music at Trinity Laban.
He serves on the board of Dr. Mohan's Diabetes Centre, one of the largest VC-funded diabetic chains in India. Previously, he served as the Chairman of the Michigan-Ross Alumni Board of Governors. Praveen is based in Mumbai and the New York region.
Key Highlights:
[00:01 – 07:45] – Opening segment
Rush introduces Praveen Suthrum!
He discusses exponential technologies are doubling in productivity and reducing in cost, impact healthcare gastroenterology especially
Business consolidation is happening across all sectors of healthcare, driven by private equity
Patient behavior is shifting away from relying on physicians to tell patients what to do, and towards finding information on their own
[07:46 – 19:29] –
Praveen Private equity-led consolidation is one of the forces physicians are most worried about
Other forces that physicians are worried about include pressure from insurance companies and local healthcare systems
The trend on non-invasive screening becoming more popular is a force that physicians are concerned about
It leads to decreased access to colonoscopies
He discusses the role of physician is changing
[19:30 – 27:08] –
Praveen believes that physicians are the most brilliant people on the planet
Abundant mindset versus Scarcity mindset
He points out the disruption happening in healthcare
Unbundling of services to push back against the existing healthcare system
[27:09 – 41:08] – The Politicizing of the Public-School Sector
Praveen says that COVID, has allowed physicians to reflect on their role in healthcare
Burnout is a common issue among physicians
Better patient education as opposed to technology
AI's role in healthcare
Patients need to be engaged in order for healthcare to change
[41:09 – 51:15] – Closing Segment
Praveen discusses how change is difficult to come by, but it has to happen now
Connect with Praveen at her website, get her book: https://scope-forward.com/, https://www.nextservices.com/, http://redohealthcare.com/, https://twitter.com/suthrum!
CRAVING MORE?
What are you waiting for? Head to Alchemy of Politics; join the conversation and start a change reaction! Follow us on Instagram and Tik Tok.
You can connect with Dr. Rusha on LinkedIn, Instagram, Facebook, and Twitter.
Thanks for tuning in! If you liked my show, LEAVE A 5-STAR REVIEW, like, and subscribe!
Share it with your friends, and family, and spark a conversation. Contribute, comment, and disagree.
Remember: Solutions, not shouting.
Tweetable Quotes:
Praveen Suthrum – "If you want a different system and if you want to step up, and if that is important enough for you, then you will learn the skills that you need to learn in order to make the change."
Praveen Suthrum – "The answer lies in better patient education and awareness as a society."
Rusha Modi – "The unique thing in healthcare that you've been very, very articulate about is this balancing act between needing to enhance the efficiency and the productivity and the effectiveness on a business level, which healthcare has struggled with dramatically historically, while also maintaining this sort of patient-centered care delivery mindset where people are not just consumers and physicians are not just providers."
If You Enjoyed this Episode, Please Check Out.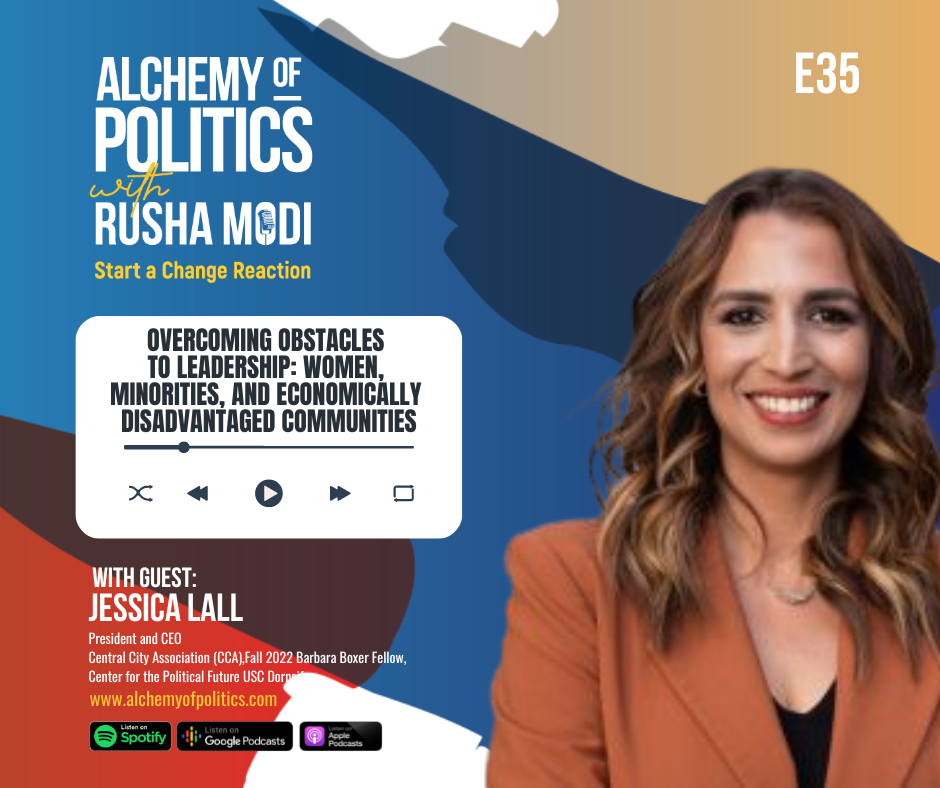 Episode #35 – Overcoming Obstacles To Leadership: Women, Minorities, and Economically Disadvantaged Communities with Jessica Lall
Jessica Lall on the LA Mayoral Race of the City of Angels, City of Leaders, She […]
Watch Now
https://alchemyofpolitics.com/wp-content/uploads/2022/07/24-Alchemy-of-Politics-Facebook.png
788
940
Super Developer
https://alchemyofpolitics.com/wp-content/uploads/2021/07/Group-95-1.png
Super Developer
2022-07-22 06:00:00
2022-07-21 03:11:56
Episode #24: Future Medicine Disruption of Healthcare Delivery